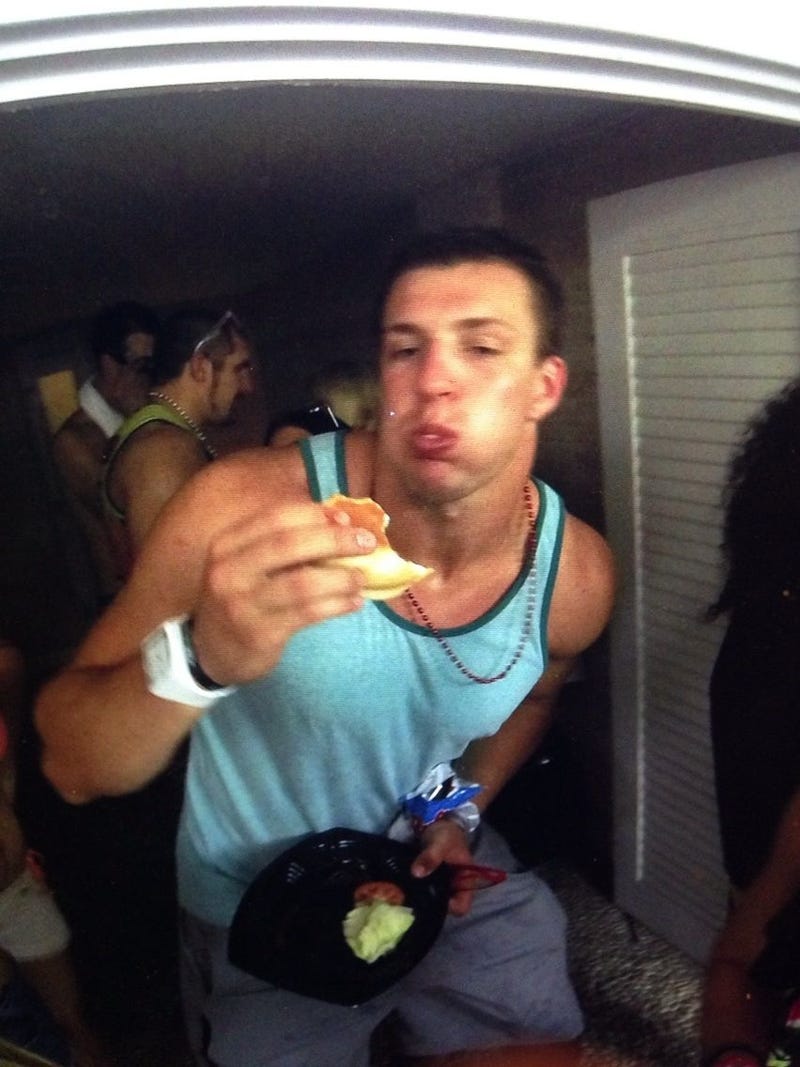 "I got these cheeeseburgers maaaaan!"

Ultra Music Festival, a gathering of Everyone Does "Molly" (EDM) fans took place in Miami over the weekend. It might very well be the last Ultra ever, but fortunately for us, Rob Gronkowski (and a band of his merry Patriots) made it down to South Beach and showed mid-season partying form.
As you can see, Gronkowski got a case of the munchies and rewarded partygoers by stuffing his face with hamburgers and other barbecue fare. From our source that wishes to remain anonymous but got to Gronk it up in Miami:
"They had their own bathroom in a cabana and they kept going in there and also going in there with girls and shit gronks exactly how u think he'd be. And extremely nice and friendly. He grabbed my GoPro and made me film him crush a hot dog in three bites."
We'll let you know if and when that hot dog video surfaces, but until then, here's more pictures of Gronk doing his best impersonation of Randy from Trailer Park Boys:
According to our source, Gronk was (shockingly) described as "the man" and was "knee deep in Pootietang." His Miami Beach entourage consisted of "his brothers, Chandler and Vannoy and Edelman (who was "a total pussy bitch"). And Steven Ridley rocking this onesise:
It's worth repeating: it's Gronk's world, we're all mere pawns living in it. Even if he never plays another game, he is living every man's dream, one piece of ass at a time.
via Weedmaps.com